Exquip's Products and Services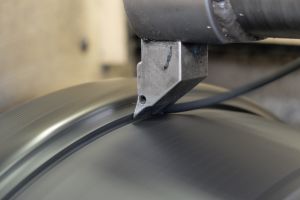 Exquip designed and manufactures over 800 different protector types. For example: protectors for the whole range of Casing Strings (Conductor, Surface, Intermediate and Production Casing), large-bore connectors as well as threadless protection for Casing Hangers, Wellheads and Marine Risers up to 52" in diameter.
Exquip also offers a wide range of Tubing and Drill Pipe Protectors (Standard API or Premium) and in addition Bumper Rings, Stabbing Guides or custom made transportation protection and storage tools. Exquip manufactures all moulds in house only at a fraction of the cost of standard injection moulds.
Exquip accompanies their customers through the development of new connector types by designing a protector from scratch, building prototypes and carrying out various tests. Also, by giving on-site service for implementing the new protectors in the field.
Exquip engineers are fully specialized to design solutions which deliver the highest protection properties and are easy to handle.
CNC Machined Quality
Exquip protectors are CNC machined, not moulded. This enables Exquip to control the clearance between the connection being protected and the protector which ensures a perfect fit with enough room for grease.
We use stringent quality controls during manufacture and complete regular product testing using specialized testing equipment. All protectors are thread tested prior to release.