Anti Corrosion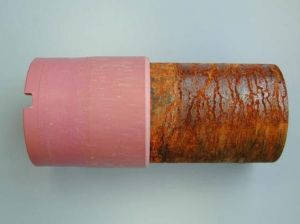 The requirements on thread protectors are increasing constantly. It is not only about protecting the connection from impacts, corrosion can do even more harm to the connection, especially when it comes to dope free connections or long term storage of Tubing, Casing or Conductor Pipes.
The use of silicone or rubber seals in protectors can create more problems – seals make the protector installation more difficult, they can come off during installation and deinstallation and therefore creating even more problems resulting in lost time and technical problems. Furthermore, irregularities on the pipe OD and temperature fluctuations can cause seals to not work at all, as water can penetrate the seals through the narrowest gaps due to capillary effect.
Exquip developed the CPR-System, a build-in corrosion inhibitor that requires no seals and no dope. Once installed, the protector will create an atmosphere between protector and connections which prevents corrosion on the connection for three or up to five years.

Anti Corrosion Protector Test Phase 1